Board & Care
The Board-and-Care homes are usually a 6 to 10 unit converted single-family home. It provides a home-like setting with caregivers present 24/7. Meals are usually homemade and residents join together for breakfast, lunch and dinner, with afternoon snacks. There are some social activities and many times doctors and nurses visit the residents in the facility. The care offered is usually more personal than at an assisted living facility.

Assisted Living
Assisted living provides a special combination of help with non-medical activities of daily living including assistance with bathing, dressing, grooming, eating, transfers, and transportation to medical appointments.

Additional offerings include meal plans, fitness facilities, grounds keeping and household maintenance, social events and outings as well. Residents having minor dementia may reside here (some might have a separate section for Memory Care residents).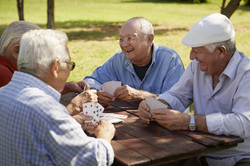 Independent Living
Independent Living Communities (or Retirement Communities) are for seniors only (usually over age 55) and may include houses, townhouses, condos and private apartments. Many communities offer a range of social events and outings as well. Additional offerings may include meal plans, fitness facilities, grounds keeping and household maintenance. You are independent when it comes to personal care, however, independent living housing options offer a sense of community and numerous levels of service, such as laundry and housekeeping.
Continuing Care Retirement Communities
Part independent living, part assisted living/memory care and part skilled nursing home, Continuing Care Retirement Communities, also known as CCRCs, offer a tiered approach to the aging process, accommodating residents' changing needs. Upon entering, healthy adults can reside independently in single-family homes, apartments or condominiums. When assistance with everyday activities becomes necessary, they can move into assisted living or nursing care facilities, or access caregiver service in their homes. These communities give older adults the option to live in one location for the duration of their life, with much of their future care already figured out. This can provide a great level of comfort to both your parents and you and take much of the stress out of the caregiving relationship. CCRCs guarantee lifetime housing, social activities and increased levels of care as needs change. CCRCs require an entrance fee as well as monthly charges. Entrance fees can range from $100,000 to $1 million+ monthly charges (ranging from $3,000 to $5,000, but may increase as needs change).
Memory Care

Alzheimer's care can be offered in Skilled Nursing Facilities, Assisted Living and Residential Care Facilities for individuals with Alzheimer's and other forms of dementia. The care is similar to Assisted Living communities, but may offer special programs specifically designed for the enjoyment of these residents. There are many forms of neurological or degenerative conditions which effect cognition and function. Parkinson's, complications of vascular disease and stroke are examples of processes that may affect a person's judgment, memory and behaviors. Many communities that specialize in Alzheimer's or related dementia disorders have buildings featuring monitored hallways, visual cues and secured locked door paths for additional security and to keep wanderers from leaving the facility.



Skilled Nursing Facility


Skilled nursing homes are medical facilities that are allowed to provide 24 hour a day services that cannot be dispensed in Assisted Living or Board and Care homes. The onsite medical staff set them apart from other types of senior housing. Registered nurses (RN), licensed vocational nurses (LVN) and nurse's aides (CNA) provide nursing assistance at all hours of the day.
Adult Day Care
Adult day service programs provide peer interaction/ socialization, supervision and structure that can improve the quality of life for participants. These centers are designed for older adults who can no longer manage independently, have memory impairment, or are isolated and lonely. These services allow caregivers the ability to balance caregiving duties with family and work demands by providing day care services. Some also provide cargivers with support, conseling and educational services. There are three models of Adult Day Service Facilities: the Social Model, the Medical Model and the Specialized Model for memory loss and Alzheimer's care.

In-Home Care
When staying at home is an option, caregivers provide one-on-one care to seniors right in the comfort of their own home. These services allow individuals to live independently in their home instead of an assisted living community or nursing home. Elder care can be provided from a few hours a week to 24/7, based on need and budget from Alzheimer's and dementia support to respite care and companionship.


Government funding (Medicaid/Medicare) does not pay for living in an Assisted Living community. These funds are limited to medical services that are only provided in a skilled nursing facility.